AI Matching PFP Maker: Get Funny Match PFP from a Photo
October 07, 2023
If you spend your leisure time scrolling through social media, you've probably noticed couples, friends, or any group of people sporting matching PFPs. You'll often find them on Facebook, Instagram, Twitter, and even Discord. But why?
Well, matching PFPs offer a sense of belonging and identity, showcasing shared interests or relationships. As such, it's no surprise that you'd also want to try them out. Enter AI PFP makers like MeBoom AI or Deepswap.
Imagine effortlessly generating personalized and eye-catching profile pictures that reflect your unique style. With MeBoom AI, expressing yourself visually becomes an exciting experience, setting you apart from the digital crowd.
Have Fun with AI DIY Matching PFP Generator
Why settle for the ordinary when you can make your online presence extraordinary? This level of uniqueness is exactly what MeBoom AI can do for you. As an easy-to-use PFP maker, the app makes it possible for anyone to create matching PFPs in the style they want.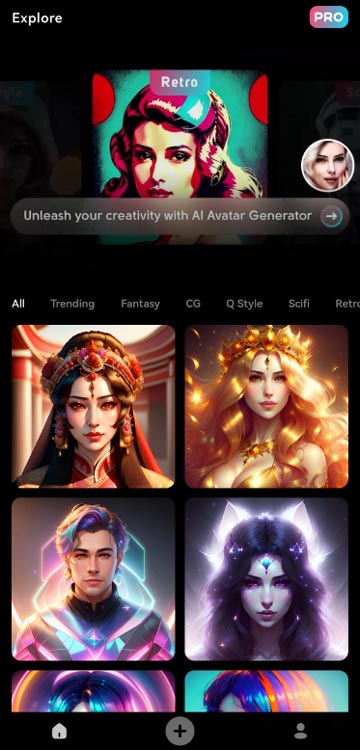 Want to join the MeBoom AI revolution and unlock the potential of matching PFPs? Before you do, check out its exciting features below:
MeBoom Matching PFP AI Generator Features
Dive into a world of limitless possibilities! MeBoom AI offers an extensive range of 20 unique styles, from enchanting Fantasy Illustration to nostalgic 80s Anime and everything in between. Unleash your creativity and find the perfect style that resonates with you.
One Photo for All-Angle Avatar
Say goodbye to the hassle of finding multiple reference images. With MeBoom AI, a single photo is all it takes to generate dynamic and multi-dimensional matching PFP from various angles.
Whether you want a funny or cute matching PFP, you can easily stand out in the digital realm with a profile picture that truly captures your essence.
Your Couple Match PFP, Your Style!
Got a new boyfie you want to make Instagram official? Use MeBoom AI to create match PFP for couples!
The app gives you full control of your and your beau's Instagram cute matching PFP. Customize the image by providing specific prompts, or tap on the app's Inspiration button for a burst of random prompts to help spark your creativity.
With the help of AI technology, who's to say you can't be Rapunzel and Flynn? Want a funny matching PFP for couples? Turn your and your partner's photos into Marge and Homer Simpson using MeBoom AI.
Your privacy matters and MeBoom AI understands this. Hence, all AI-generated images are automatically deleted from their database after just seven days.
Curious about the Pro account but not ready to commit yet? MeBoom AI offers a free trial, allowing you to experience the app's features. So even without spending a dime, you can generate fun matching PFP for 2 friends or matching Discord PFP for your whole team!
Matching PFP for Couples, Friends, and More
MeBoom AI boasts a wide array of styles you and your group can play with. By using text prompts, you can generate high-quality AI images you can use as matching PFP on all social media platforms.
Here are a few samples of Instagram cute matching PFPs we made using MeBoom AI:
1. Matching PFP for Couples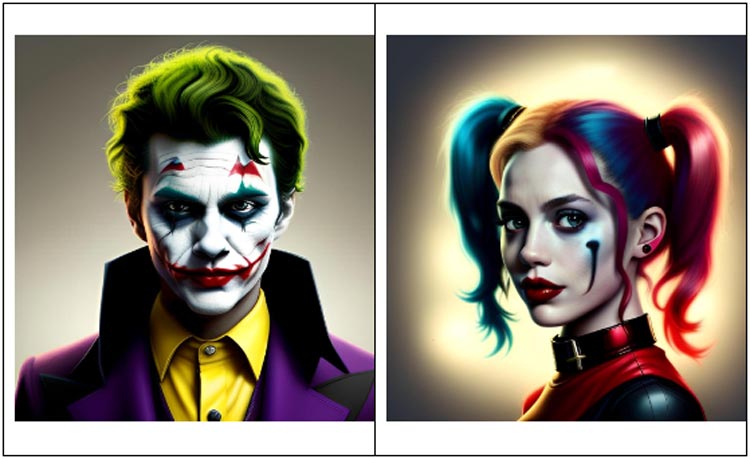 Style: Cute Rich
Unleash your playful side, ignite curiosity, and let your love shine in the most captivating way with this couple match PFP idea!
Imagine the thrill of capturing your wild, passionate love story through a matching profile picture inspired by Joker and Harley Quinn. It's an electrifying way to showcase your unique connection, embracing your inner rebels and adding a dash of mischief to your online presence.
2. Matching PFP for Friends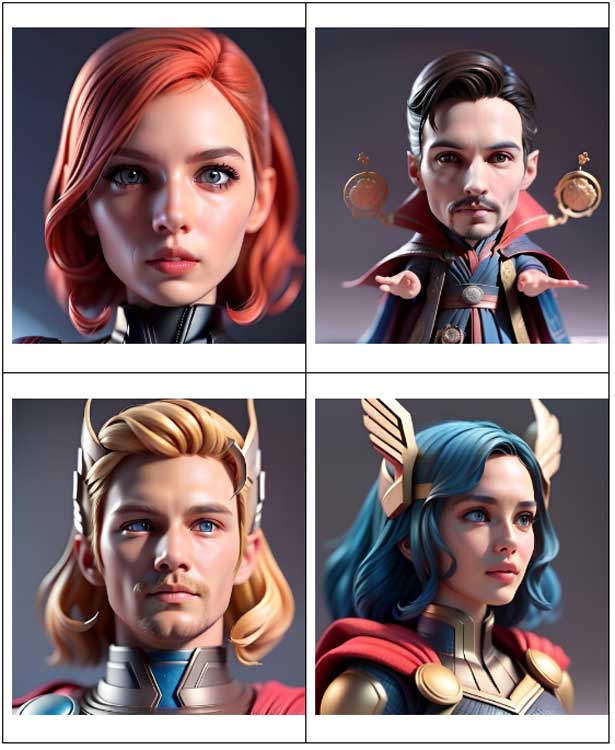 Style: Q Style
Immerse yourself in a world of friendship and heroism with matching profile pictures inspired by The Avengers. It's a thrilling way to strengthen bonds, stand out in the digital realm, and ignite the envy of other Marvel enthusiasts.
3. Anime Matching PFP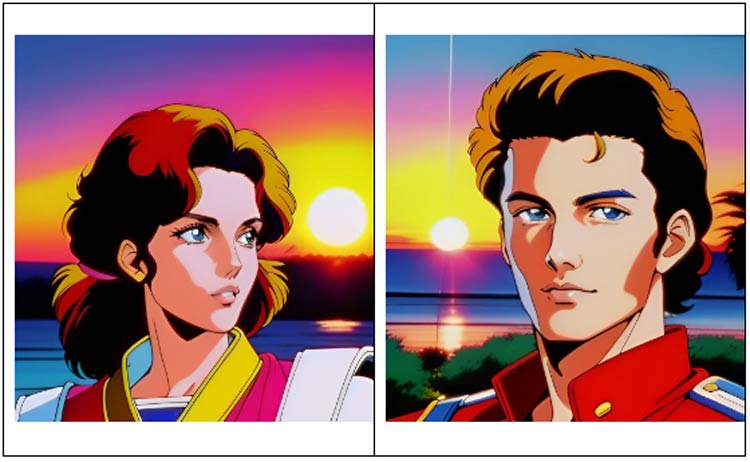 Style: 80s Anime
Want an anime matching PFP? Transport yourself back to the nostalgic era of the 80s with the iconic Voltes V aesthetic. Its timeless appeal continues to captivate fans, evoking a sense of adventure, retro charm, and childhood memories.
How To Create Your Matching PFP from a Photo and Prompts
Creating matching PFPs with MeBoom AI is a breeze. Follow these three steps to generate your perfect matching profile pictures:
Step 1: Gather your reference photos.
Collect the photos you and your partner, friends, or group members want to use as references for your cute matching PFPs. Make sure they are readily available on your device's gallery or storage.

Step 2: Choose an avatar style that unites you.
Explore MeBoom AI's vast collection of avatar styles, from vibrant 80s Anime to captivating Sci-Fi, nostalgic Retro to charming Pixar, or even the artistic Sketch style. Select the style that captures the essence of your desired matching aesthetic.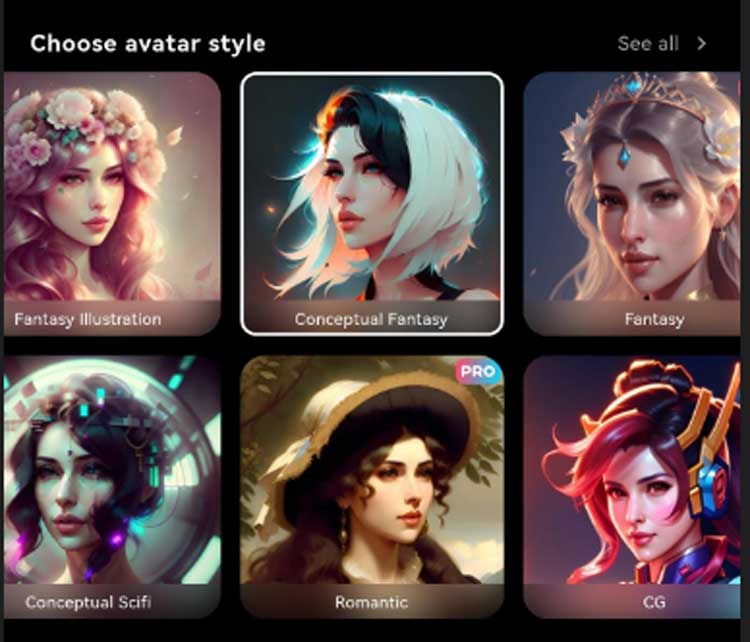 Step 3: Infuse your uniqueness into the AI generation.
To guide the AI image generation process, you can provide specific text prompts describing the desired look and features you want for your matching PFPs.

For example, it's common for romantic partners to generate couple match PFP referencing Disney princes and princesses. If you're more interested in funny matching PFP for friends, how about turning your photos into Scooby-Doo characters?
Then, using the Face Similarity feature, you can adjust the resemblance between the AI-generated image and the reference photos. Set it anywhere between 1.0 and 1.5 to find the perfect balance.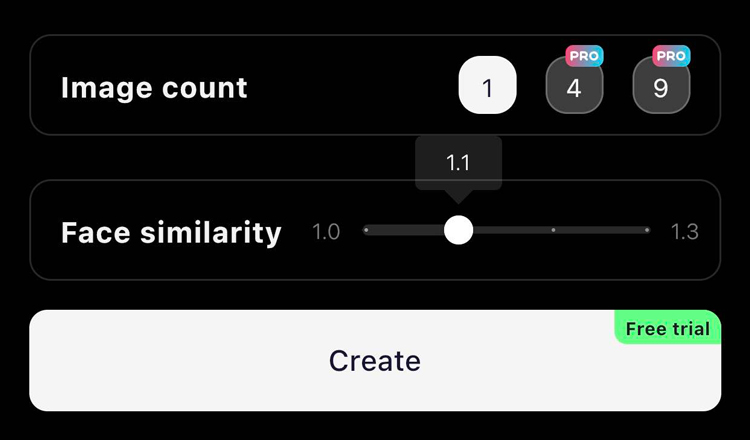 Step 4: Use the same prompt on your friend's photo.
Once you're satisfied, it's time to create your personalized matching PFPs. Simply tap the Create button and let MeBoom AI work its magic. Use the same style and prompt on your partner's photo, and you'll have unique but matching PFPs that perfectly match your spirit!
Read More: All-Styles-in-One AI PFP Maker for Your Social Media Avatars
Showcase Picture-Perfect Connections With MeBoom AI
If you're looking for a matching PFP maker, MeBoom AI has got you covered. It is the ultimate tool to unlock your creativity and add a touch of fun to your social media presence.
With just a photo, you can generate hilarious and cute matching PFPs that will leave your friends and followers in awe. Embrace the power of AI and let your imagination run wild as you explore the diverse range of styles available.
Whether you're looking for a comical twist, a nostalgic throwback, or a whimsical adventure, MeBoom AI can do it all.