Ultimate Review of Wepik AI Art Generator
October 23, 2023
AI Art Generator, in its advent, has combined human creativity with artificial intelligence. This fusion of intellect and human creativity has created many applications with different capabilities. Among all these applications, tools for generating AI art images have been developed, one of which is Wepik AI.
About Wepik AI Art Generator

What Is Wepik
Today, you must double-check before knowing if anything is real. Seen a portrait? Look again. It would be best to find out if it's a real person and not an AI-generated picture. Wepik ai introduces you to a world of possibilities. Just by typing in a text, you can create a beautifully crafted image.
Wepik is an awesome AI image generator platform that allows you to design anything you like using artificial intelligence. An AI text-to-image editor, Wepik turns your idea into an attractive graphic in seconds. This amazing tool can be accessed on the Wepik app and its website. It is available to Android and iOS users and on any desktop, no matter the age.
Wepik Features
The Wepik AI has lots of features that enable it to be an AI editor of choice. These features make it possible for users to have the best experience while designing. They include:
AI Girl Image Generator: This is a free online text to girl image generator. You can use it to generate your dream AI girl.
Background remover: This is a feature that is most useful in photography. Using this feature, you can edit the background in which any picture was taken.
Photo editor: This is the photographer's best friend. Any picture can be tweaked to create a stunning image.
Library of templates: Wepik's library of templates makes it possible to personalise your image. You can choose any templates available to personalise the text, font, or colour palette.
Brand kit feature: This feature makes it extremely easy to build your brand. With a few clicks here and there, your brand can be built from scratch.
Wepik v.s. Deepswap
When comparing Wepik to similar AI tools such as Deepswap, it's important to note that they have different advantages.
Speed of converting text to image: Deepswap is known for its fast text-to-image conversion, providing quick results for users. It can generate an AI image in about 2 seconds. And Wepik needs 5- 10 seconds to generate one AI image.
Accuracy of image generation: Both Deepswap and Wepik Al Girl Generator are designed to generate accurate and high-quality images based on the provided text. The difference lies in the style of the generated results.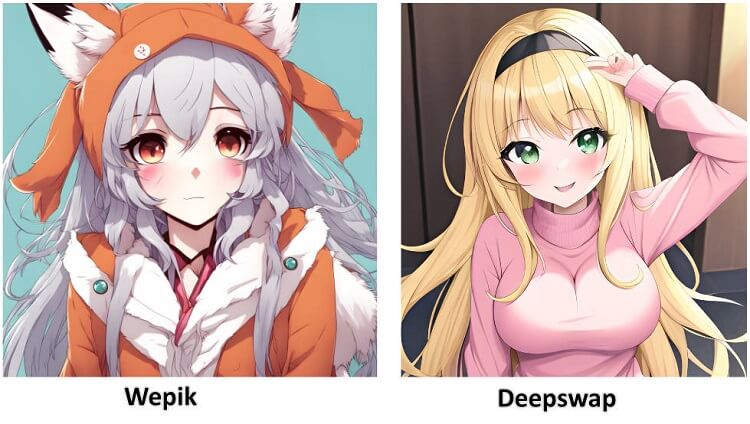 NSFW Content: Wepik doesn't support NSFW content, you can generate NSFW images but you can't see it. Deepswap supports both SFW content and NSFW content.
User experience: Wepik has more styles to choose, such as photo, comic, 3D, it's useful for users. But it doesn't have any prompt hints, not very friendly to newbies. On the other hand, Deepswap has prompt hints to help users generate better images.
Wepik Alternatives for AI Image Generation
Deepswap: Best AI image Generator, supports AI girls generation, face swap, edit and extend image
Soulgen: Popular AI art generator for image generation, supports free trial.
Midjourney AI: Good AI image generated tool.
Meboom: Best AI avatar generator
Read More: Top 15 Useful AI Art Generated Tools for AI Girl
Pros and Cons of Wepik AI Art Generated Tool
There are many advantages of using the Wepik AI art generation tool. Here, we will examine the benefits and disadvantages of using Wepik.
Pros
Free trials: To some extent, the Wepik is available free of cost. You can get up to 40 credits with a free account. A lot of AI tools need an upfront payment for a subscription plan to access any of the tools. The free trial feature of Wepik AI makes it very easy for users to enjoy the tool at no cost.
Pricing Comparison: The Wepik AI compares fairly to other AI tools. To begin with, it has a great pricing plan and has ditched the widespread monthly subscription plan. It allows users to pay according to their requirements. This outstanding innovation provides a solution to users having to pay for anything they don't use.
Ease-of-Use Analysis: Generating images with Wepik is so easy. You only have to enter a prompt, choose a style, and the image is generated. You can then download or edit the images. Also, its paid subscription plan is so convenient. You can get a pack of 100, 500 or 1000.
Image editing: Compared to other AI tools, Wepik allows users to edit the images generated even before downloading. This feature gives users more control and flexibility over their final image, allowing for adjustments and enhancements to be made in real-time.
Cons
Certain features in Wepik AI Girl Generated Tool are locked behind a premium subscription, limiting access to additional customization options and advanced functionalities.
The simplistic design templates provided by Wepik may be considered limited in terms of complexity and may not offer as much creative flexibility.
Generated AI image with big size
How to Use Wepik to Generate AI Image
The Wepik AI Art generator is so easy to use. With some quick, easy steps, you are done generating a stunning image from scratch. You only have to have the right words to create your idea.
Step 1–Type in your prompt: The first step to creating any image here is finding the right words. You can start to do this by writing as many prompts as you need to capture the core of your idea and bring it to life on the screen. For instance: "Beautiful girl with black long hair, blue eyes, smiling, wearing a long dress, sitting on a park bench."

Step 2-Select your style: After typing in your prompt, you have to choose the style you want for the image. You can select the photo, digital art, painting, 3D, low-poly, pixel art, anime, cyberpunk, comic, vintage, or cartoon options, as they best suit the image you want to generate.

Step 3-Generate the image: After generating the image, you can download or edit the image. Add some final finishing touches and tweak the image to fit your style and preference. The "Edit image" feature of Wepik makes it possible to do this, and you can create a stunning, made-to-taste image.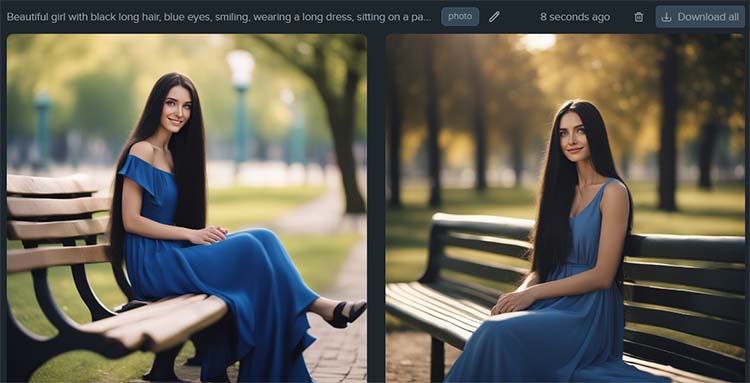 Step 4-Share your image: After generating and editing it, you can share it to whatever platform you wish or download it.
Tips of Wepik Usage
Wepik allows you to unleash your creativity. You can generate the most stunning AI images in just a few clicks. Here are some tips to help you:
When writing your prompts, don't just give a superficial description. A detailed description of the specific things you'd like to see is best
Take little steps while writing your prompts. Don't over complicate the idea of what you want to see.
You can explore the many options that Wepik offers. Find the best possible outcome of your idea.
Lastly, make the changes you need. The edit function is there to help you.
FAQs about Wepik AI Generator
1.Does Wepik offer support and customer service?
Yes. Wepik offers support and customer service on its website. You can access their Wepik Support page to ask questions and get help for all your design needs.
2.How does Wepik compare with other AI generator apps?
Although its text generation speed is not as fast as Deepswap, it is also a good AI art generator. It offers many features you may not readily find on other AI apps.
Wep has a user-friendly interface in both its website and mobile application forms. It also offers a pay-as-you-use payment plan instead of the conventional monthly subscription plans.
3.How can you use Wepik AI tools to create content without copyright issues?
Wepik generates its images using AI tools. This is akin to drawing an image using a knowledgeable computer. Since it is made of a few computer tricks here and there, no one person owns the image. This means the rules that work for real art don't apply to AI drawings.
4.Can Wepik AI Image Generator be used for personal and professional purposes?
Yes. Wepik AI Image Generator can be used to generate images for personal use, as well as creating graphics for brands or professional services.
Summary
Wepik AI is setting the pace for other AI art generator tools through its excellent innovation of the Wepik AI art generator. AI-generated images using this application are exceptionally realistic. Wepik also acts as an AI anime girl generator to generate different anime. Start your journey to creating stunning images using this tool.