Anime AI Art Generator: Create Stunning Anime or Manga Art
October 24, 2023
Have you ever heard of an anime AI art generator? Well, if you've heard of Eiichiro Oda, Masashi Kishimoto, and Tite Kubo, the creators of One Piece, Naruto, and Bleach, I've got good news for you.
You can now create stunning anime or manga art with AI. And these aren't just some basic drawings. These are art images that can compete with the top 3 anime shows of all time, even without prior digital art or drawing skills. Let me show you how.
What is Anime?
Anime is a term derived from the word "animation." It refers to hand-drawn and digital animation. In almost every country, the word "anime" exclusively pertains to animations that come from Japan. But in Japan, "anime" pertains to all animated works inside and outside of the country.
Generally speaking, all animes can be categorized into five different types.
Kodomomuke – made for children below 12 years old
Shonen – made for teenage boys from 12 to 18 years old
Shojo – made for teenage girls from 12 to 18 years old
Seinen – made for adult men
Josei – made for adult women
Top 5 Anime AI Art Generator Apps
If you've ever watched an anime show before, it most likely falls under any of the five categories above. And if you ever wondered if you'll ever be able to create something similar to it, well, now you can!
I've gathered some of the best anime AI art generator apps available out there, so you can start testing them out today!
1. Deepswap – Best Anime AI Art Generator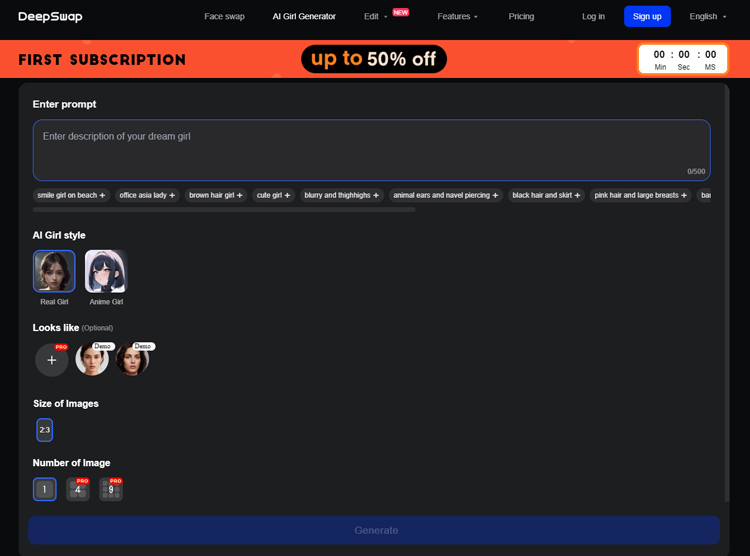 Deepswap AI is, without a doubt, the best AI anime art generator I've seen recently. I use it myself to grow my collection of anime art images. One thing you'll love about it is that you can create AI images just by giving it a text prompt.
The text-to-image generator is very intuitive and even includes preset tags for anime girl ideas. But what really makes it unique is its editing feature. After generating your image, you can edit it and remove or add various elements using text prompts.
The editing page also includes an image or background extender. Through this, you can let the AI fill the background, or upload another image and let it combine the two. It even offers a "face swap" feature that allows you to turn yourself into famous celebrities
Deepswap AI offers a 50% discount if you're a first-time subscriber. So, if you're looking for an affordable but highly capable anime AI art generator, this is the answer.
Pros

Intuitive text-to-image AI

Cons

"Real Girl" art style only has one aspect ratio (2:3)
2. SoulGen – Best for Creating Anime Erotic Girls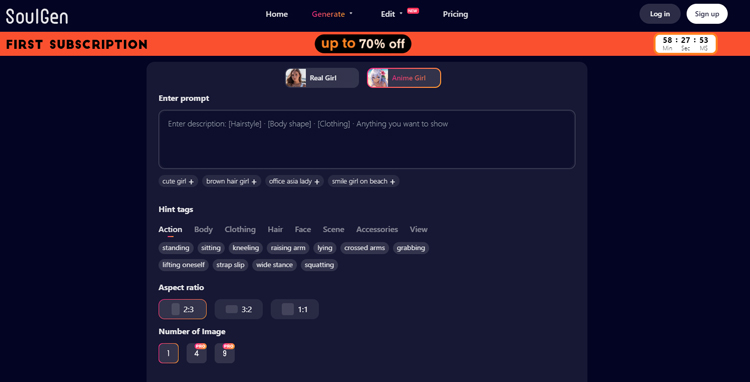 SoulGen AI is a very similar AI art generator (anime) to Deepswap AI. It also features a text box where you can enter your prompts. The only difference is that it includes "hint tags" where you can click a hint to include in the text box.
It's a great feature especially since some of the hint tags are perfect for creating anime erotic girls, which means if you're out of ideas, the tags will help you out. So, be sure to check this anime AI art generator out, too.
Pros
Cons

Free version is very limited
3. PicSo – Best AI Tool for Anime Art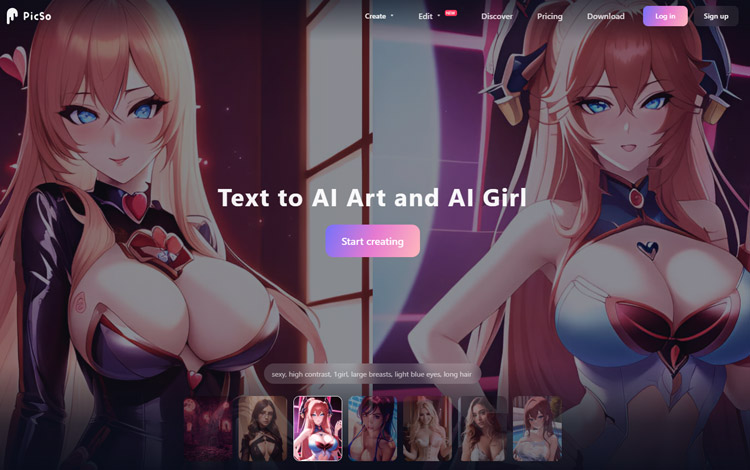 PicSo is also an impressive and versatile tool for creating stunning visuals. Similar to the ones above, it's also an AI anime art generator from text. The learning curve is fairly shallow, and it offers the option of generating several images from a single text prompt.
One unique feature I love about it is that you can input your preferred art style in the text prompt. It also includes a "history" page where you can revisit your previous works.
Pros

Images are saved in a cloud storage

Generates multiple images from one prompt

Cons

Maximum of 300 characters per text prompt only
4. Live3D – Easy-to-Use Anime Generator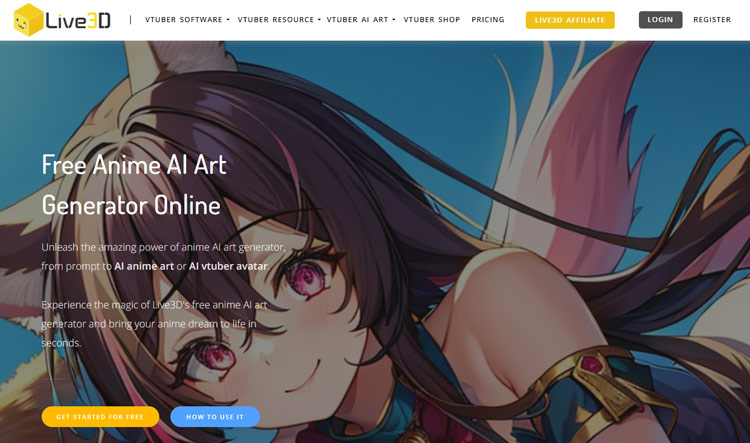 If you're looking for a straightforward anime AI art generator, check out Live3D. You just enter your prompt in the text box and let it do the rest. Alternatively, you may also click "random prompt" if you want to skip the idea generation part.
What's amazing about this tool is that it allows you to choose an "AI lore." This refers to a dataset saved in Live3D's AI model that lets you influence the final result. Live3D's AI lore includes several character and visual styles.
Pros
Cons

Generally longer queueing
5. MeBoom – Best AI Face Animator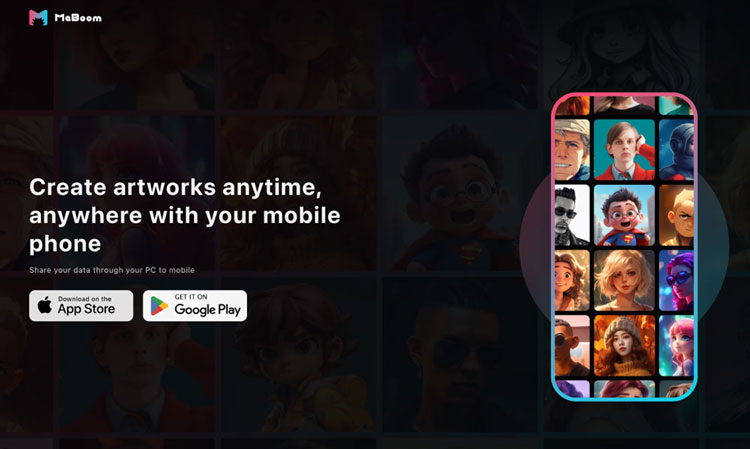 If you want an anime AI art generator that creates avatars based on your face, just download MeBoom anime PFP generator on your smartphone. After uploading your photo, the app allows you to choose from a wide range of avatar styles.
You can also input several prompts on the text box to influence the final outcome.
Pros

Blends photo with art styles smoothly

Cons

Pro version is significantly more expensive than other AI tools
How to Fast Create Anime Art with AI
To end this list, allow me to teach you how to use an anime AI art generator. Here's a quick step-by-step guide on maximizing Deepswap AI.
Step 1: Using the Anime AI Art Generator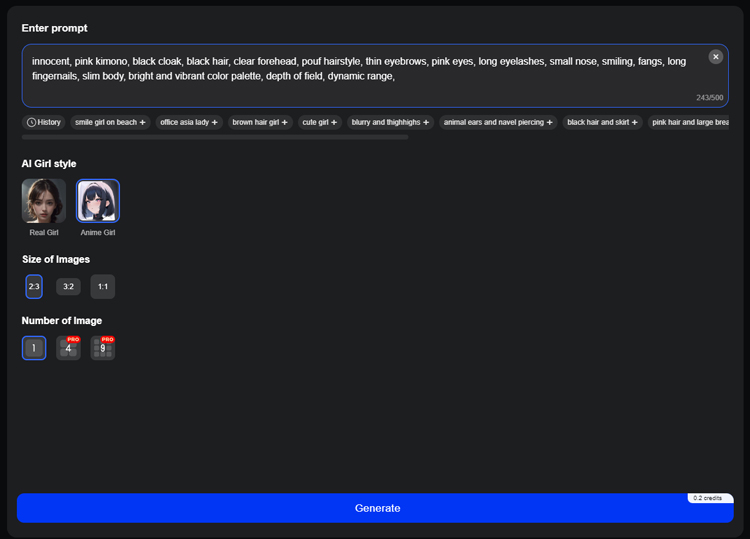 First, enter your prompt in the text box, then choose "Anime Girl" for the art style. If you're unsure what to put in the box, try to look for prompt samples or character descriptions in online forums.
Choose the image's aspect ratio and the number of images you wish to create (for the Pro version) before clicking Generate.
Read More: Useful Anime AI Art Prompts for Best AI Girl Generation
Step 2: Editing Your Image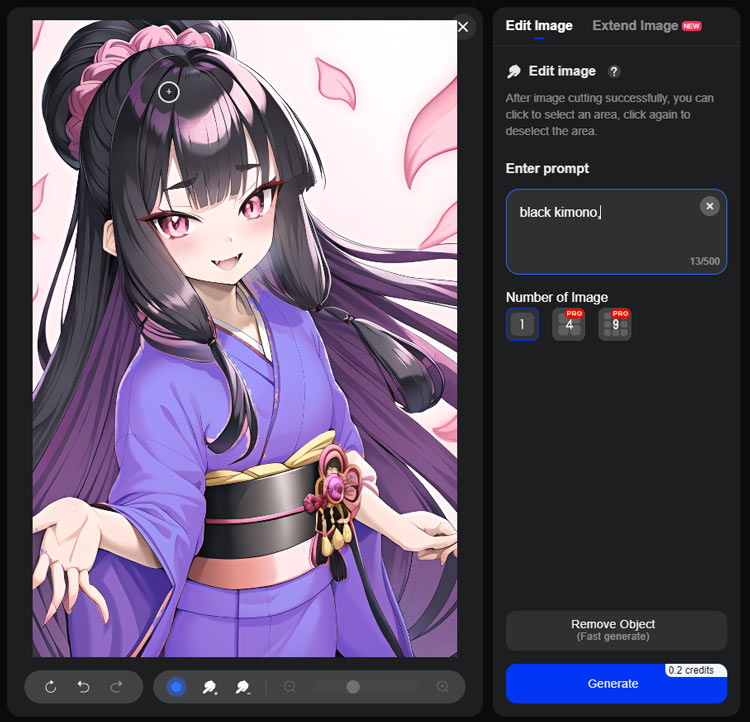 You can then go to the Edit page, click your image, and start manipulating the result. Say, for example, you want to go for a black kimono instead, just select the area you want to change and make sure it turns purple.
Enter another prompt in the text box and click Generate.
Step 3: Expanding the Background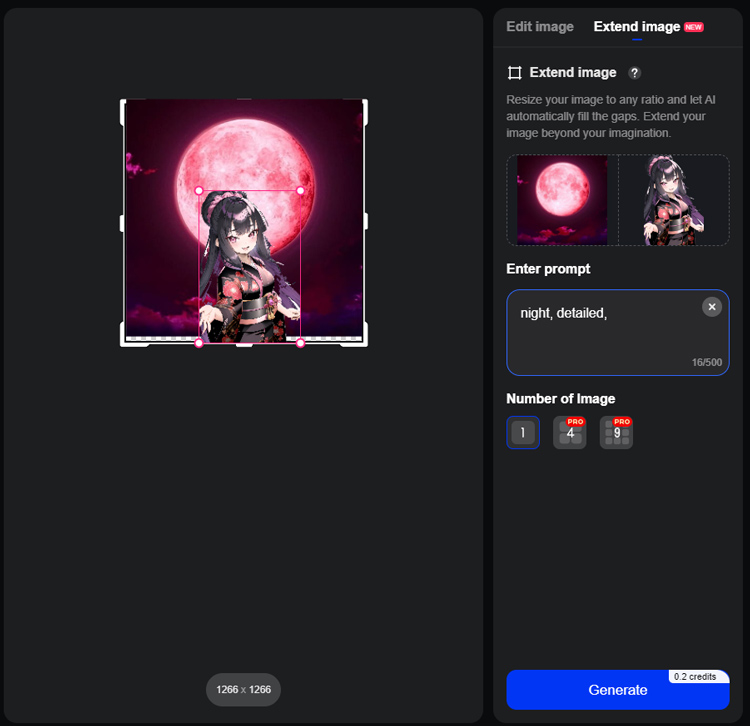 Finally, you may go to the "Extend Image" section to further improve your AI art image. You can either upload another photo to add to your current one or just enter a prompt in the box. Once you've finalized everything, click "Generate" to see the final image.
Read More: How to Generate NSFW AI Art of Different AI Art Types
Summary
Even without exemplary skills in digital art, creating your own stunning visuals is now possible, thanks to the best anime AI art generator apps. But remember, they still need your creativity in describing the elements you want to include in your image.
Don't be afraid to test them out! Let me see how your anime art collection goes.