How to Generate AI Anime Cat Girl Using AI Art Generators
September 27, 2023
The mix of humans and cute cat features like ears and tails make the anime cat girl popular. She is adorable and acts playful and funny. But did you know they're not only drawn by artists? AI art generators are the place where technology brings anime cat girls to life. 
Let's explore:
Top AI art generators for anime cat girl
How to create AI Cat Girl with DeepSwap
AI anime cat girls
Top 4 AI Art Generators to Get Dream AI Cat Girl Anime
If you're into making anime cat girls with AI art generators, let's meet the top 4 of these creative tools.
1. DeepSwap – The Best AI Cat Girl Maker
DeepSwap is a dream come true for anime cat girl enthusiasts. It's famous for its ability to transform your ideas into incredibly lifelike artwork.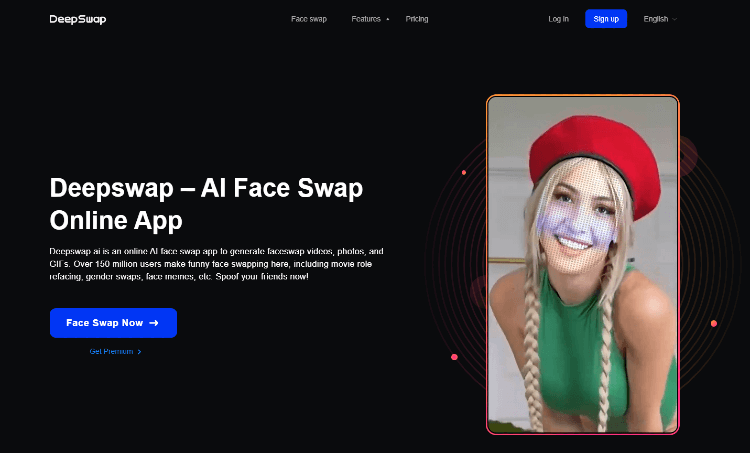 Main Features:
Provides anime girl generation with various image size options.
Creates high-quality Deepfake videos, GIFs, and pictures quickly.
Allows changes in faces and genders.
Provides clear and sharp videos for up to 10 minutes.
No blurriness, watermarks, or ads.
Enables the creation of realistic or anime AI characters using just text.
Offers character generation based on a reference photo.
Pros:
Unique AI girl generator
Produces high-quality deepfake videos, images, and GIFs.
Easy to use.
Allows face swapping in group photos.
Ideal for making high-quality, long videos.
Completely free from annoying watermarks or ads.
Cons:
Limited features in the free version.
Requires an internet connection.
Might cause slower performance on older computers.
DeepSwap Reviews:
"Fast, easy, and works great" – Users report that it performs well, without any issues.
"Fun app" – Many users find it enjoyable and entertaining.
"Would recommend it to others" – A lot of people would recommend it to their friends and family.
"App improvements" – People say that the developers are always working to make it better. They add new stuff and fix things to make it work even smoother.
"Issues with cancellation" – A few users have experienced difficulties when canceling items in the app.
2. Ainmegenius – The Aime AI Creator
Ainmegenius, or Aime, is an all-around AI maker, great at making cute anime cat girls. What's cool about it is how it can give your characters different looks and poses. You can also change the scenery.
It's fast and has lots of choices for how to make your characters. It offers options to convert AI anime art into animated images or videos. It creates professional-quality AI anime art. Some folks said it has tiny problems sometimes, but most people love it for being creative and easy.
3. Midjourney AI – The Good AI Art Maker for Anime Cat Girl
Midjourney AI is a good pick if you want a charming anime cat girl. It has tools to help you change things about your characters and a strong character maker. People find it easy to use, especially if you're new to this.
It allows you to create unique imagery from short text descriptions. Some users mentioned a limited selection of backgrounds. Most folks like it for making detailed characters quickly.
4. Remarker
This AI anime generator is also a popular AI tool for crafting amazing anime cat girls. Remarker is known for having lots of stuff like clothes and accessories to pick from.
People like how you can make your characters look different. Some people said they had problems with saving their work. Most people like it for having lots of choices for being creative.
Read More: Top 5 Anime PFP Generators: Convert Your Photo to AI Anime Avatar
Use DeepSwap To Generate Your AI Anime Cat Girl
To show you how easy it is to make AI anime cat girls with DeepSwap, we'll share two examples.
If you're a new user, sign up for a DeepSwap account. Make sure to take advantage of a 50% discount for your first yearly or monthly subscription, it's a great deal!
If you've used it before, simply log in with your existing credentials. Once you're logged in, go to the AI Girl Generator Section on the top menu. From there, you can start creating amazing cat girl anime art.
You can create the desired anime characters with DeepSwap in just a few steps:
Step 2: Enter the Prompt, choose the Anime Girl option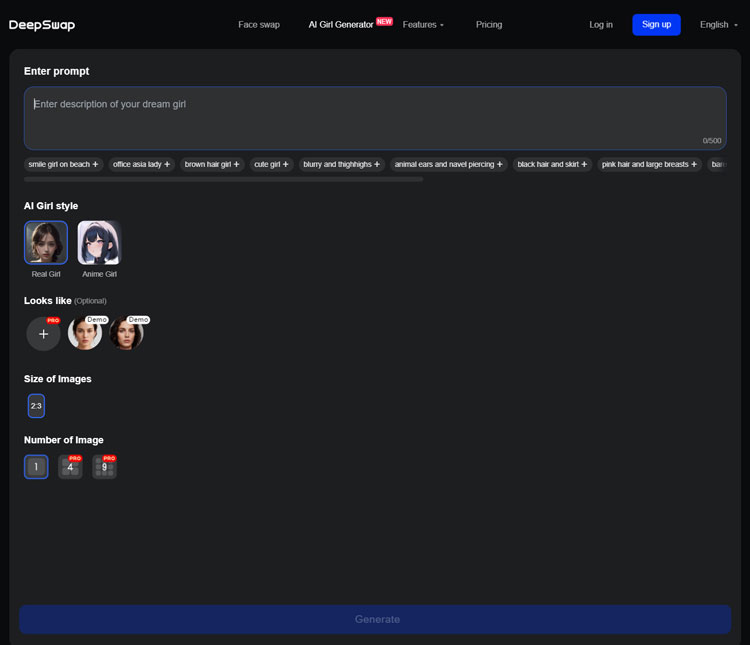 Step 3: Click the Generate button on the bottom and get your unique image
When you download the generated art, click the download button to save it on your device in jpg format.
AI Anime Cat Girl Example One
Prompt: "A cute cat girl with orange cat ear, pink and short hair, blue eyes, wearing skirt, sitting on the beach"
This is the result that you get! Looks amazing, right?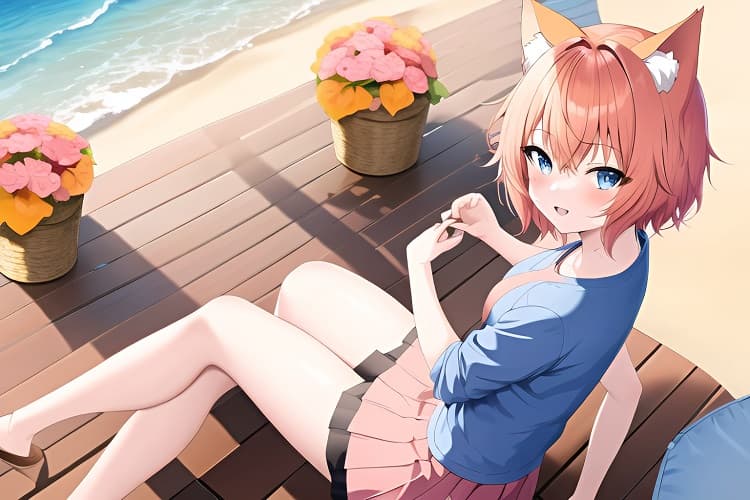 AI Anime Cat Girl Example Two
Prompt: "A beautiful cat girl with orange cat ear, long hair, green eyes, wearing long pants, sitting on the park"
This is the result. An easy and simple way to get mind blowing anime cat girl designs.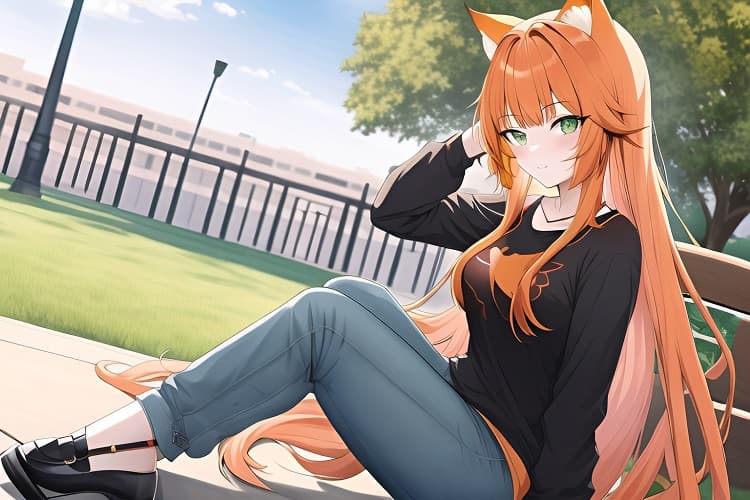 With one click you can download your dream anime character. These examples of anime cat girl artwork showcase the magic of the DeepSwap AI art generator.
What Is AI Anime Cat Girl
An anime cat girl is a special character from anime and manga that has cat-like looks and personality. She looks mostly like a human but has adorable cat ears and sometimes a tail. Their soft and cuddly nature makes them lovable.
Anime cat girls are very popular because they're unique and charming. People really enjoy watching and reading stories about them.
Below are some of the most popular anime cat girl characters.
Yoruichi Shihōin from Bleach
Yoruichi Shihōin is a powerful and enigmatic former captain in "Bleach" who can transform into a black cat.
Rem Galleu from How Not to Summon a Demon Lord
Rem Galleu is a confident and magical cat-eared girl in "How Not to Summon a Demon Lord."
Alicia Rue from Sword Art Online
Alicia Rue is a loyal Cait Sith character in "Sword Art Online". She is known for her unique appearance and role in the "Fairy Dance".
Coconut from Nekopara
Coconut is an energetic and cheerful cat girl from "Nekopara" who works in a bakery.
Eris from Cat Planet Cuties
Eris is a curious and playful alien cat girl from "Cat Planet Cuties" who explores Earth's customs.
Today anyone can create their own fantastic Cat Girl with AI art generators. These are like very smart computers that can draw pictures.
AI art generators help you make art quickly, ensuring your Cat Girls always look cool and cute. Ai-generated artwork can inspire you with new ideas for your drawings, and you don't need to be a pro artist to use AI. It's really simple to use.
Making an AI anime Cat Girl with AI is often cheaper than hiring a pro artist. You can customize things to make your Cat Girl special. It's like having a robot artist!
FAQs: AI Anime Cat Girl
1. What My AI Anime Cat Girl Can Be Used to?
You can share your anime cat girl on social media to connect with people who love your creativity. Game makers can use them in games for people who love anime characters. These characters can also be used on products like clothing or accessories.
You can use AI anime cat girls as avatars in virtual chats and role-playing games. This artwork can be used for online digital content such as web design, blog posts, e-books, and similar. Whether for fun or profit, your creativity knows no bounds with these characters.
2. How to Enhance My Anime Cat Girl?
To make your anime cat girl even better and more personalized, use basic image editing tools. Learning new prompts can also help improve it. Consider experimenting with different backgrounds or settings to make your character more engaging. Explore unique facial expressions or poses to add personality.
With these tips, you can make your AI generated anime cat girl match your vision even better.
3. Can I customize the appearance of my AI anime cat girl?
Yes, AI art generators let you change your AI Anime Cat Girl's look as you like. Use options and words to describe how you want her to look. Specify her eyes, clothes, background, accessories, and even her facial expression. You can easily create a custom-made AI cat girl design with all these choices.
Summary
AI art generators let you create beautiful anime cat girl artwork in just a few seconds. The variety of options lets you easily bring your imagination to life. You have countless choices to define your anime cat girl's look. Use words to define the looks, the background, pose, colors, and accessorize. If you haven't tried creating your artwork yet, don't miss out on the fun – give it a try!