DeepSwap AI Anime Generator: Unleash Your Anime Artistry
October 17, 2023
Artists and anime enthusiasts can now make the most of AI anime generators to create stunning artwork in a matter of seconds!
An AI anime generator makes use of AI and machine learning to generate anime-style artwork instantly. One anime AI generator that is gaining a lot of traction is DeepSwap. It's super easy to use and can seamlessly create stunning and high-quality ai generated animation. All you have to do is input your prompt or upload an image and Deepswap will do its magic to generate the work of art you want to bring to life.
In this article, let's explore more of what DeepSwap can do and what makes it one of a kind.
Understanding DeepSwap as an AI Anime Generator
DeepSwap combines various AI and machine learning techniques. It also harnesses facial recognition and a multi-use technology to map faces according to landmark points.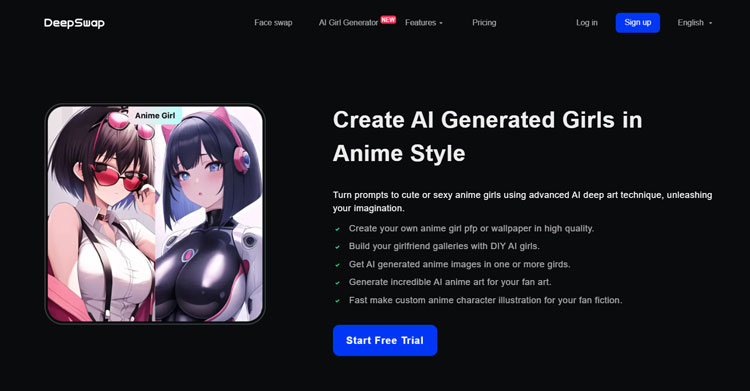 With DeepSwap, users can produce immersive anime girls by just entering keywords or uploading a reference image. DeepSwap is perfect for professional artists or anime fans who want to create your anime avatar or even your anime waifu.
Unleashing Creativity with DeepSwap's Key Features
You can input as many text prompts as you want on DeepSwap to create your ideal AI-generated anime. For example, if you want a sweet yet shy anime girlfriend, you can input the following tags or prompts into the AI Anime Generator:
"Shy, introvert, pretty, sweet smile, light makeup, dream girl"
Then, the AI anime generator will do its magic like this: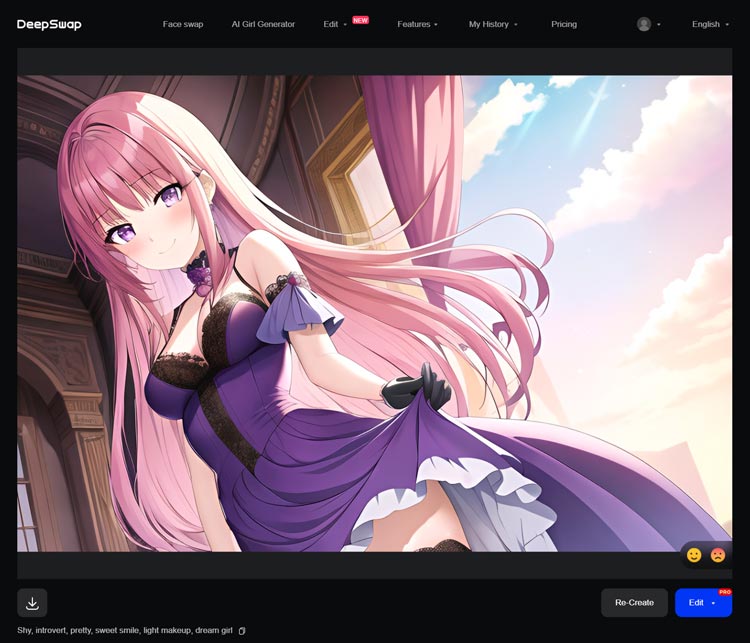 The more specific your prompt is, the better. Just draw from your imagination and allow DeepSwap AI Anime Generator to work its AI magic. In a matter of seconds, you can bring all your ideas to life effortlessly.
You can also fine-tune the results with DeepSwap's unique object selection. It also has prompt-based editing features. Users can edit or remove objects from anime images and make adjustments until they're satisfied with the results.
DeepSwap also has amazing AI outpainting features for more customization. In its AI Outpainting, you can add new backgrounds and other new elements or even combine two anime photos without the constraints of borders.
Read More:
Seamless User Experience with DeepSwap
Other anime AI generators are filled with bothersome ads or require you to go through hoops just to get started. However, with DeepSwap AI Anime Generator, you can enjoy the app without the hassle of installations or pop-up advertisements. It's all a seamless user experience that is straightforward and on point.
Plus, this AI Anime Generator is compatible with different operating systems and devices. The interface is so simple that even beginners in AI animation would get the hang of it in no time. It's a versatile and all-in-one anime AI art generator for all levels of users.
Performance and Accuracy
An AI animation generator should do one thing and one thing right: produce accurate and stunning results. That is exactly what DeepSwap AI Anime Generator does. When it comes to speed, you can literally generate results in seconds. You can also quickly recreate, edit, or even face-swap the generated results.
The AI Anime Generator also follows the prompts and reference photos accurately. For example, if we use the prompt we cited: "Shy, introvert, pretty, sweet smile, light makeup, dream girl", the following are both the realistic and anime result: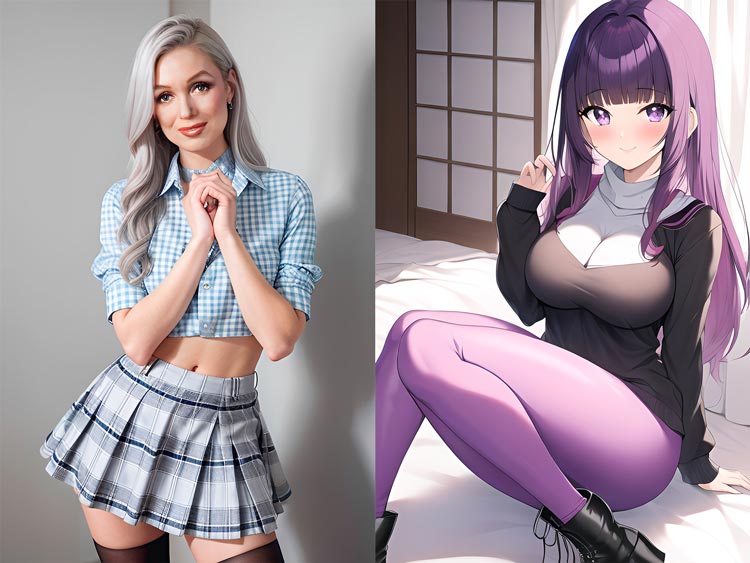 Guess which superstar the AI realistic girl above looks like?
It seamlessly brings your imagination to life. It maintains the anime aesthetics well, and it shows in the natural-looking results. You can dictate the clothing, hairstyles, and literally every aspect of the anime design. Whatever expression, pose, or facial features you want to create, DeepSwap AI Anime Generator can make it happen.
DeepSwap does not produce jarred results. It creates AI-generated anime that looks realistic and natural.
Read More: Useful Anime AI Art Prompts for Best AI Girl Generation
Pros and Cons of DeepSwap AI Anime Generator
No doubt that DeepSwap is an advanced AI animation generator with amazing capabilities. However, for you to make a more informed decision, let's explore all of its pros and cons:
Pros:
lightning-fast text-to-image generation
versatile editing capabilities
Accurate results
Straightforward interface
Cons:
Though there's a free version, you need to subscribe to the premium plan to unlock more features
There's no direct picture-to-anime generation for now. You can just upload photos for reference
Although you need to pay for premium features, its pricing plan is actually more reasonable than that of other AI anime generators. Given its performance, speed, and accuracy, our quick verdict is: it's a steal!
How to Get Stunning AI Generated Anime on Deepswap
Here's a quick tutorial on how to generate stunning AI generated animation using DeepSwap. In just a few clicks, you'll be able to create, edit, or recreate your ideal output using this AI anime image generator.
Step 1. Visit Deepswap AI Anime Generator
From the Home Page of Deepswap, click "AI Girl Generator" from the nav bar.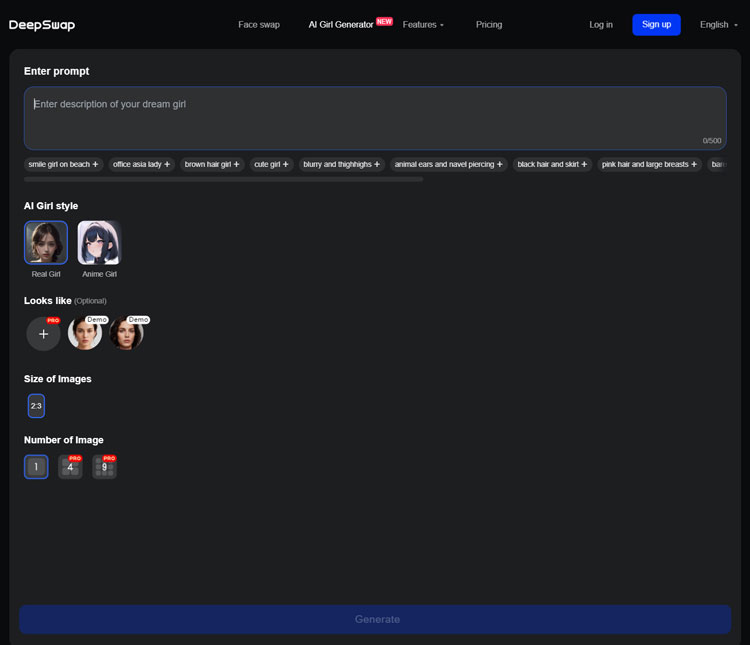 Step 2. Type Text Prompt
Enter your text prompt and describe in detail the results you want to generate. There are also tags you can use for easy reference. Just picture your ideal anime girl in your head and type in the most accurate description.

Step 3. Choose Anime Style
Next, choose the AI Girl Style. If you want to create a realistic otaku girl, choose "Real Girl". Or, if you want to create the classic anime style, choose "Anime Girl".

If you choose Realistic Style, you can upload a reference picture. However, if you choose 'Anime Girl', there's no option to convert a reference image to classic anime yet.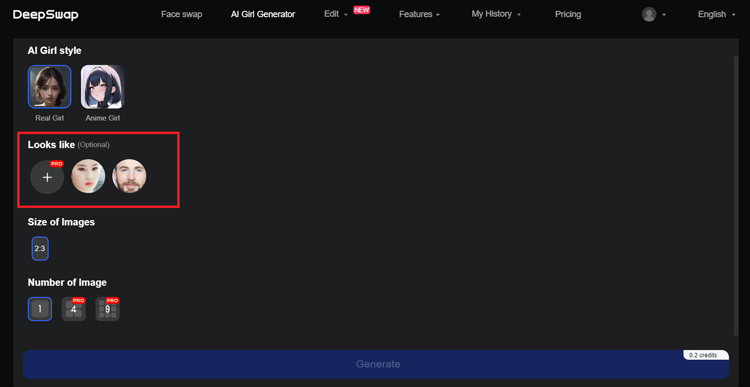 Step 4. Adjust Image Quality
You can set the image size and number of images you want to generate. After that, Click "Generate".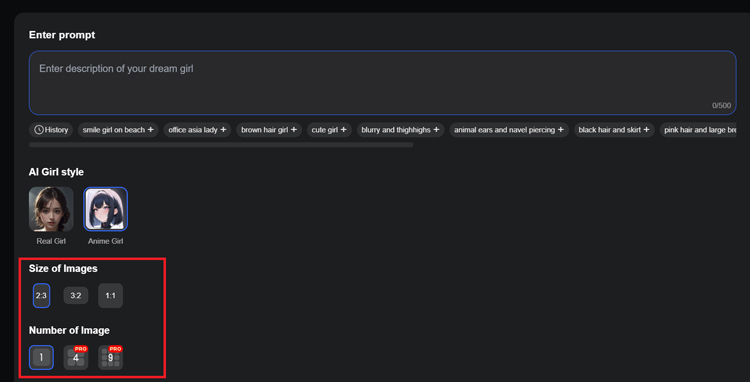 Step 5. Generate AI Anime
Once the image is generated, you can choose to edit. If you edit a realistic image, you can enter more prompts to achieve your desired output and even do a face-swap.
If you edit an anime girl, you can still enter a prompt and have the option to remove items from the generated picture. You can extend all results to crop and remove the background.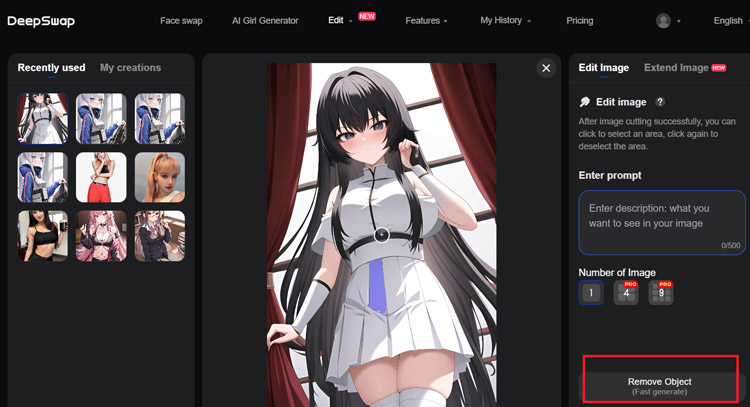 Step 6. Download AI-Generated Anime Result
If you're satisfied with the results, you can hit the download icon at the lower left side of the screen.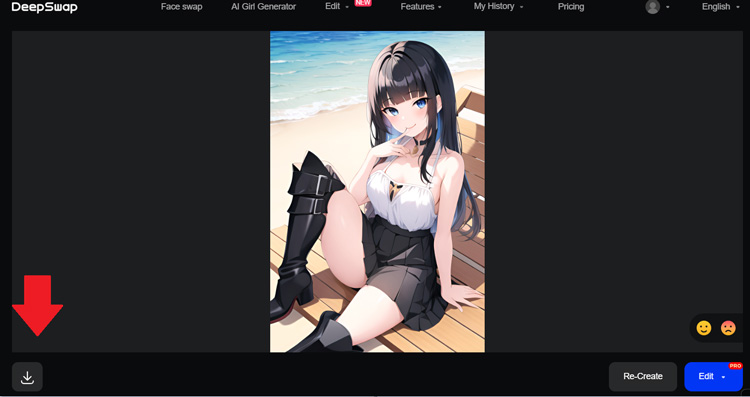 Now, it's your turn to create your favorite AI anime with Deepswap:
Conclusion
Overall, DeepSwap is an exceptional AI anime generator. It's on point and super fun to use! With tools like DeepSwap, it's now easier than ever to create a captivating AI-generated anime character. Unleash your creativity and create unique anime-style images for your project or fan art!